Responsible Gambling
Learn to Compare Online Casinos Like a Pro
This chapter will look at online casinos in more detail and discuss the aspects to consider when playing online. In addition, you'll get a behind-the-scenes look at how online slot machines and casinos work. Armed with knowledge, gamblers are more confident and careful.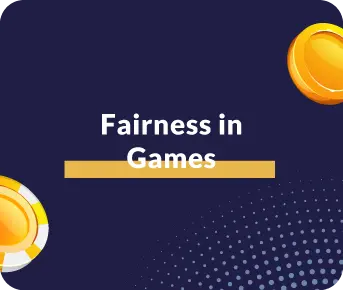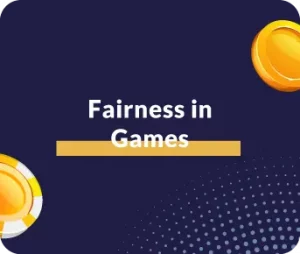 Fairness in Games
You must be reassured that you'll be treated fairly when you play online casino games.
Several indicators may be used to determine whether the online casino treats you fairly. First, it is important to be aware of the various strategies employed. Furthermore, understanding how slot machines are created is advantageous.
Remember that the same firm does not create an online casino and the games it offers. They are two distinct entities. That is why different games may operate differently. Regarding online casinos, you should read the terms and conditions carefully. For online slot players, it is always in your best interests to read the unique regulations offered in the game's interface.
Understanding the Random Number Generator (RNG)
The "Random Number Generator" (RNG) technology is what game developers use to operate a slot machine. To put it another way, consider RNG as the slot machine's brain, which is also charged with ensuring that the game is fair in how it generates combinations to preserve the randomness of the results.

The slot machines' mechanism creates numbers corresponding to the reels' symbols. The RNG will select a value between 0 and 4 billion in less than a millisecond.
After selecting a value, the number will be transformed into matching numbers on the game's reels. As soon as you press the "play" button, the RNG determines the outcome of every spin you make.
The RNG technology works by following an algorithm that tells it which numbers to output. This algorithm is tested regularly to guarantee that it works correctly and provides the gamer with a fair gaming experience.
The Tools You Might Need
When you have a beneficial relationship with online gambling, you eliminate most of the stress connected with the activity. Using internet tools as a buffer is a fantastic approach to ensure you're okay. There are a variety of online tools that will ensure that you can play comfortably when you use them consistently.
How to Sustain a Healthy Relationship with Online Casinos
This section discusses how to be safe while playing online casino games. When playing at an online casino, you need to take many steps to guarantee that you are protected from factors that might leave you susceptible.
Always Participate in Casino Games Sober
Drugs and alcohol are known to impair judgment, and you'll want to be completely mindful of your behaviour when playing casino games for real money. Playing casino games while inebriated will almost certainly lead to rash judgments, violating stake limitations, and neglecting the amount of time spent playing.
It's impossible to get a wager back once it's been placed, regardless of the sum, whether it was put in good faith or not, and no complaining to customer care would change that.
Do Not Play As a Means to Recover Lost Money
Pursuing lost bets by placing more frequent and greater bets can put you in a terrible mental state that will affect your life. To avoid any undesired behaviour, make a budget and stick to it. Chasing lost bets is a typical illustration of how negative emotional states emerge while playing casino games, and it invariably leads to rage and dissatisfaction with yourself.
You'll not only put yourself in danger but also lose more money than you planned, leading to a chain reaction of unpleasant emotions.
Your online gambling budget should be sensible and always something you can afford to lose.
You may also create daily, weekly, or monthly deposit restrictions to ensure that the online casino keeps track of your spending habits. These limits can only be lifted by contacting customer care and waiting the required time.
Do Not Play to Try and Pay Debts
Playing casino games to get out of debt is a perilous path to take and must be avoided like the plague. Consider the frustration that losing additional money will bring to someone already struggling financially.
Once again, casino games should be played solely for entertainment purposes. Any other reason will almost certainly make you regret your decision to begin playing, and you will be disappointed.
The likelihood of ending up in a worse financial position than when you started is almost guaranteed.
Game Addiction Statistics
Even though online casinos only recently became legal and authorized to operate in Canada, the country has had land-based casinos, lotteries and scratchies for a while now. Gambling is a very addictive form of entertainment that can spiral out of control when left unchecked, or gamblers have no recourse if they develop the problem.
Here are some of the 2021 statistics about Canada concerning gambling addiction:
Around the world, 350 million people have gambling problems. Around 220,000 of these people live in Canada, with 1,000,000 of them having problematic gambling behaviours that are likely to worsen shortly.
The most extreme gambling addicts in Canada frequently lose more than $500,000 annually.
Between 2002 and 2018, the percentage of problem gamblers in Canada declined.
Approximately 75% of Canadians engage in some type of gambling.
Over 2% of Canadians older than 15 years have problematic gambling habits.
Ontario generated the highest gambling revenues (money players lost) of any province ($3.8 billion), followed by Quebec ($2.73 billion) and Columbia ($1.2 billion).
Online Gambling's Risks
Gambling online has changed gambling behaviour and made it significantly simpler to create an addiction, owing to its accessibility and ability to be played on any mobile device at any time.
Problem gamblers will find it far more difficult to resist the temptation if they have access to all games at any time of day. This is why Canada has put iGaming Ontario, the subsidiary of the Alcohol and Gaming Commission of Ontario (AGCO), in charge of regulating the industry and measures to make it easier for players to opt-out.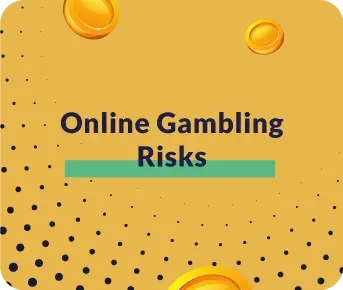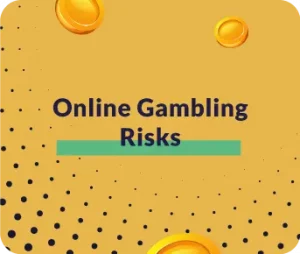 Unlike conventional brick-and-mortar casinos, where gamblers must travel and engage with other players and dealers, internet gambling eliminates physical closeness, making it considerably more difficult to detect a problem gambler. In addition, almost all internet gamblers do it from their homes, and it's impossible to know what kind of person is gambling online unless certain regulations are in place.
Another issue with online gambling is the age of the user. While it is unlawful to gamble online under the age of 19, there is no way of knowing whether teenagers are gambling on a friend's or parent's credit card.
The extreme ease of access puts almost everyone in danger, not only because it is done in complete anonymity but also because it may be done at any time. Casino games may be played while at work, bored, or even upset, and with little effort, putting players at significantly more peril than playing at classic land-based casinos.
Setting Limitations and Exclusions
If you believe your gambling behaviour has deteriorated, you can learn what to do. However, it's important to remember that you may always take action if you discover you've lost control of your gambling. So first, we'll look at the gaming authorities overseeing the online gambling industry.
Gambling Authorities
Gambling Authorities, such as the AGCO, are governmental departments that fall under the jurisdiction of a country's government and other bodies of law.
Their goal is to ensure that gaming and internet casinos are regulated and that the gambling industry operates fairly.
They verify an online casino's level of quality, security, and trustworthiness, enabling the casino to operate lawfully on the internet. They also ensure that gamers and their information are secured, enabling them to play in a safe environment.
Cool-off Period
Many online casinos include a cooling-off period during which you can recalibrate your strategy. You may lose confidence in your gambling behaviour and want to stop playing.
A "cooling-off period," which can be found in your online casino account settings, is a method of preventing yourself from wagering for a specified amount of time.
Once engaged, you cannot place any bets for the next 24 hours. This is a great approach to getting back on your feet and thinking about your behaviour patterns. In addition, many online casinos include a section available in the account settings that allows you to gamble more responsibly by cutting yourself off gambling for as long as you need to.
If you feel like you've lost control of how much you input or spend at an online casino, setting deposit and loss limits might be a great way to regain that control.
Loss limits can be adjusted to whatever amount you think is appropriate. However, you will be instantly barred from placing more bets once your loss limit has been achieved. The casino will then have you wait a set amount of time before allowing you to play again.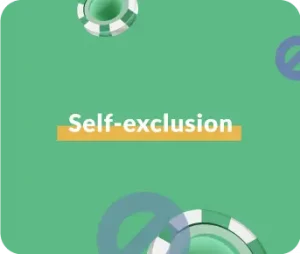 Self-exclusion
Filling out official paperwork at a governmental agency might be used to self-exclude. This may appear to be an extreme move, but it may be life-saving for players drowning in problem gambling and have no other option except to stop gambling altogether.
You cannot undo or revoke your self-exclusion request after it has been submitted. A self-exclusion request normally covers all gaming operators recognized by the regulatory authority, including land-based casinos.
Avoid playing in online casinos that have not been certified by legitimate agencies committed to verifying casinos, as you will just wind up deeper in the hole.
Gambling Addiction
You may already be too deep if you don't detect the early warning signs in time. The first step toward recovery from gambling addiction is to admit that you have a problem in the first place.
After all, whether we're talking about yourself or someone in your immediate network of contacts, no one will assist you if you don't want to be assisted. The psychological components of gambling addiction are something you should know about.
Knowing how problem gambling affects a person might help you determine whether you have any of these indicators in your behaviour.
If you already feel you have a gambling concern, it's critical, to be honest with yourself while you read this section.
If you believe a family member or friend is struggling with problem gambling, here is a good place to start learning more about this issue.
Psychological Symptoms
If you're unsure about having a gambling issue, there are a few mental indicators to watch out for. Keep an eye out for the following mental signs:
Depression
Suicidal ideation
Restlessness
Anxiety
Insomnia
Loss of focus
Mood swings
Feelings of stress
A struggling immune system
Excessive sweating
Persistent headaches
Stomach and muscle pains
Higher than normal heart rate/palpitations
All these symptoms are your body trying to tell you that you are placing it under a lot of stress. So if you notice these symptoms, it is a good sign that you need to take a step back and take care of yourself.
Sometimes, it could be that you have a problem with gambling but don't know it. If your body signals you, try getting help even if you don't think you need it.
Gambling Addiction Types
Because there are so many diverse online casino games, problem gambling and gambling addiction may take many different forms. However, the common denominator is virtually the same, and the symptoms discussed in this section apply regardless of the sort of game you focus on.
Games of chance are the first category of games with the highest chances of inducing an addiction.
To win, these games do not require any skills or expertise; instead, they depend simply on chance or the RNG (Random Number Generator) to determine wins. Slot machines, scratch cards, and all types of roulette are included in this category.
Another category to watch out for is skill-based games. These games are defined by strategy implementation and are subject to a period of adjustment. However, players who practice skill-based games can improve their skills by playing them frequently, boosting their wins. Poker, sports betting, and chess are examples of skill-based casino games.
Young individuals aged 19 to 35 are considerably more likely to play skill-based games. Readily available games can also be classed as a "type" game. In this category, you'll find pub slot machines, claw machines, or the funfair's coin machine. Because a problem gambler cannot avoid them, readily available games make it more difficult to quit gambling altogether.
Research on gambling addiction shows a link between game availability and the likelihood of addiction.
Another feature that may make a game appealing to problem gamblers is the speed at which it is played. As a kind of rapid satisfaction, the faster a game runs, the more excitement and thrill it will provide the participants. For example, poker and sports betting are fast-paced games, whereas lottery games and bingo games are examples of slow-paced games.
Personal gain is one of the factors that influence gambling addiction. Players wager to win a large sum of money in a couple of seconds.
The desire for large sums of (usually) unobtainable money is a major factor in why people develop gambling addictions.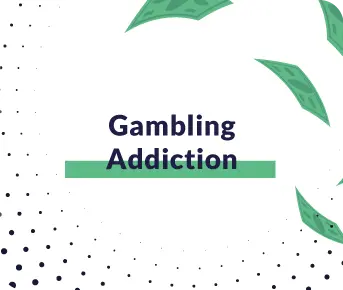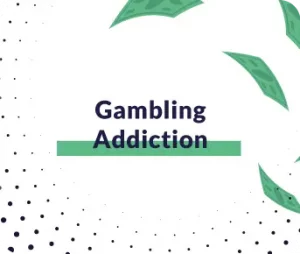 What Can Lead to Gambling Addiction?
According to research, certain people are more likely than others to fall into gambling addiction. There are numerous things to consider, but the most popular misconception is that persons with addictive personalities are more likely to be addicted. However, a study published in Scientific American found that no one personality factor causes gambling addiction and that a mix of characteristics might cause it.
In this part, we'll discuss the characteristics of persons more likely to develop a gambling problem. The following is a list of contributing elements that, if ignored, may lead to gambling addiction.
Genetics (Being Related to People With Addictions)
Numerous studies have found that genetics plays a vital role in developing any addiction. For example, a family member who is addicted puts a person at a higher risk of addiction, but genetic potential alone does not mean a person will form an addiction.
Mental Disorders
Some people gamble to escape reality and find pleasure in playing casino games or games of chance, particularly from the comfort of their own homes. However, gambling should be avoided by those who suffer from anxiety since it may be used as a coping mechanism to deal with their psychological condition, which contradicts the intent of gambling as a recreational form of amusement.
Obsessive-Compulsive Characteristics
When a person has little to no control over their inclinations, gambling addictions can develop, which can be risky.
Gambling becomes problematic when a desire or sudden need to play casino games develops over time rather than as a single event.
As described in the earlier sections, the worst thing a gambler can do is try to recoup lost bets by making larger and more frequent wagers, leading to an obsession with recouping lost bets.
Inability to Control One's Behavior
Individuals who struggle to control specific behaviours, ideas, or emotions are more likely to develop a gambling addiction. The inability to moderate behaviour in anticipation of earning a reward has been connected to the development of addiction in studies.
This implies that if players can't manage their emotions after losing a bet, they're more likely to chase lost bets, leading to compulsive gambling.
Risk Factors Associated with Gambling Addiction
Several risk characteristics can lead to gambling addiction if not addressed or managed. Therefore, the elements listed below must be considered to prevent developing problem gambling. In addition, if you or a loved one exhibits any of the following characteristics, it is advised to abstain from gaming:
Due to a great early victory, a false sense of gambling may develop.
Access to gaming platforms is easy.
Players may not be aware of the genuine winning odds.
There is no responsibility for victories or losses.
Going through a major life transition or catastrophes, such as a job shift, divorce, or the death of a loved one, can trigger the problem.
Boredom or loneliness tendencies.
A history of being impulsive or taking risks.
Have financial difficulties.
A lack of hobbies or interests.
A history of mental illness, especially sadness and anxiety.
Experiences of abuse or trauma.
A family member who has struggled with addiction.
The more of the criteria mentioned above a person has, the more likely they are to develop a gambling addiction.
Getting Help With Gambling Problems
The essential thing is, to be honest with yourself and how you feel about gambling addiction.
Gambling impacts the gambler's general mood, capacity to think about anything other than gambling, relationships, financial status, and employment, among other aspects, as discussed in the sections above.
Recognize that you need assistance, and bear in mind that various organizations and bodies in Canada are committed to assisting gamblers in overcoming their addiction.
There is no shame in getting addiction treatment, and in this part, we'll list all the resources available to you when you're looking for assistance and solutions to conquer your addiction.
Treatments for Gambling Addiction
There are several methods to overcome a gambling addiction, and although some people tackle the problem independently, others find it too overwhelming.
Any addiction may be overwhelming, and knowing that there are people and organizations committed to helping those struggling with problem gambling is a comforting feeling.
For those in Ontario, here are some of the resources you can check out:
ConnexOntario
Website: ConnexOntario
Phone: 1-866-531-2600
Webchat: Click here to chat
Email: Send an email here
This free and confidential service is offered in 170 languages and is available 24/7 in Ontario, Canada. They can assist by:
Providing information about local counselling services and resources
Making your first appointment with a medical professional
Listening, supporting, and recommending solutions to help you achieve your objectives
Gamtalk
Website: Gamtalk.org
Phone: Not available
Webchat: Click here
Email: Not available
If you feel comfortable sharing your experience with others online, you can check out GamTalk to connect with individuals who know what it feels like to have a gambling problem or addiction.
Gambling Therapy
This gambling therapy platform is free and available to everyone who needs practical information and emotional support when affected by problem gambling.
Install the RecoverMe App
Recover is a mobile application that can assist you in combating gambling addiction. The software employs cognitive behavioural therapy, mindfulness, and a variety of support tools to aid in managing impulses and preventing gambling lapses.
To get the software for free, use the promo RECOVERME100. You can download the app for Android or iOS from the Google Play Store or App Store.
Other Helplines
Problem gamblers can contact the following helplines across Canada for assistance in overcoming gambling impulses and the addiction itself:
Ontario Problem Gambling Helpline — 1-888-230-3505
British Columbia Problem Gambling Information and Referral Service — 1-888-795-6111
Manitoba Gambling Helpline — 1-800-463-1554
New Brunswick Problem Gamblers Hotline — 1-800-461-1234
Nova Scotia Toll-Free Gambling Helpline — 1-888-347-8888
Prince Edward Island Gambling Addiction Treatment Program — 1-888-299-8399
Québec – Gambling Help and Referral — (514)-527-0140
Montreal and surrounding area — 1-800-461-0140
Saskatchewan Problem Gambling Helpline — 1-800-306-6789
How Can You Quit Gambling?
There are effective strategies for stopping problem gambling, and taking matters into your own hands will need perseverance and a strong desire to change. However, eliminating the risk factors and substituting healthier alternatives can help you overcome your gambling issue and enhance your quality of life and of others around you.
Urges to Gamble
Divert your attention away from gambling when you feel the need to place a wager or play casino games. First, consider the effects of gambling and how it will affect your mood. Then, distract yourself from gambling by doing anything else right away.
For a better life, train your brain to make the best decisions every time.
Money
You won't be able to gamble if you don't have any money. If you believe you're at risk of relapsing, remove money from the equation by cancelling credit cards, allowing your spouse or a close friend to manage your funds, or, if you want to be extra cautious, requesting direct payments from the bank. Of course, all betting accounts should be cancelled to eliminate any temptation.
Time to Play
Keeping oneself occupied is one of the most critical aspects of breaking a habit since it pulls your attention away from gambling. Therefore, it's necessary to set apart time for yourself unrelated to gambling, and the impulse will fade over time until you are no longer thinking about wagering.