Best Betting Exchange Sites in Ontario: Are They Legal?
Discover a new way to bet on sports in Canada with a betting exchange. With sports betting gaining legal status in the US and Canada, it's no surprise that a unique betting exchange has emerged. A Canadian betting exchange offers a new approach to sports betting, changing how bookmakers and players interact.
By the end of this piece, you'll be an expert on exchange betting and ready to explore the top betting exchange sites in Canada for 2023. Don't miss out on this exciting opportunity to elevate your sports betting experience
What Is a Betting Exchange: Basics and Key Features
Betting exchange sites are beginning to pop up with more regularity in Canada.
A betting exchange is basically a marketplace where, instead of betting against the sportsbook, bettors can wager against one another. It changes the action and reduces the fees that most sportsbooks would have, creating bigger winnings through exchange betting. This means that punters go head to head.
The major advantage of betting exchanges is that they have lower fees than online sportsbooks in Ontario. Where a normal sportsbook might take somewhere between 5% and 10% on each bet, a Canadian betting exchange takes just a couple of percentage points.
A betting exchange is also quite user-friendly. Instead of the +/- system of American betting odds, there are percentages that tell players exactly what the odds are.
Speaking of odds, they are also much better than your average sportsbook. For instance, a sportsbook will list NFL point spreads at -110, while betting exchanges may have them at -101 or even money.
Betting Exchange vs Traditional Betting
Several features make a betting exchange quite different from traditional sportsbooks. For starters, betting exchange sites have better odds than the average sportsbook. Those improved odds can deliver serious value over the long term compared to traditional sports betting.
One of the biggest differences between a sports betting exchange and traditional betting is back and lay. With a bookmaker, you can only pick a winner.
Exchanges, however, allow players to trade positions, providing further value to a game. It is a fairly complex strategy that more seasoned players can potentially use to their advantage.
Perhaps the coolest thing about a sports betting exchange is being able to set your own odds. That's because players are the bookmaker, setting the parameters of the bet. When posted, other players can opt to take action, creating a wager between the two players. There are plenty of other reasons why a sports betting exchange in Canada is worth checking out.
How to Use a Betting Exchange
While the most common question is, "What is a betting exchange?" it helps to know more about how they work. Using a betting exchange can provide a nice alternative, especially in the face of a seemingly infinite number of sportsbooks.
The key to using a bet exchange is knowing how to use one. The concept as a whole is relatively simple, but there are a few things that you need to know going into the process. Here's how to use a sports betting exchange in Canada.
A step-by-step guide for using a betting exchange site:
Log into your bet exchange account
Find the market you like
Choose back or lay
When you are happy with the stake, odds, and potential profit, submit
Verify your bet if you have that option checked
Wait for your bet to be matched
Back and Lay Betting
One of the biggest differences between a betting exchange and a traditional sportsbook is being able to back and lay a bet. In traditional sports betting, you can only choose one outcome. That might be a spread or an outright winner, but it is the only choice.
A betting exchange in Canada allows players to create bets on each. Perhaps you back a team well before the game date. Odds will shift leading up to the start of the game and change during play. It offers a chance to find improved value and create a profit. When you garner a better understanding of the back and lay strategy, you can become a master of betting exchanges.
Betting Exchanges Canada
Betting exchanges in Canada are still a new development. STX became the first to market in Ontario in 2023, for instance. There are likely going to be other betting exchange sites to pop up in both the short- and long-term.
This is still somewhat new territory, at least in North America. STX becoming the first Canadian betting exchange will surely establish them as the premier name in Ontario and throughout Canada.
STX Betting Exchange: The First Sports Bet Exchange Site in Ontario
STX is the biggest name not only in terms of a betting exchange in Canada but exchange betting sites in general. They were also the first Canadian betting exchange, debuting in Ontario – the foundation of sports betting developments in Canada – just recently.
STX touts itself as a real-time marketplace where bettors can come together to bet on sporting events. With fair odds and transparent transactions, STX sets the stage for what can be expected by a bet exchange.
For those who are looking to gain greater value and get away from the same old sportsbooks, a betting exchange can be a great alternative. Plus, there is far more user interaction than at traditional sportsbooks, allowing players to be competitive with one another. STX has been rated as one of the best betting exchange sites in Canada for 2023.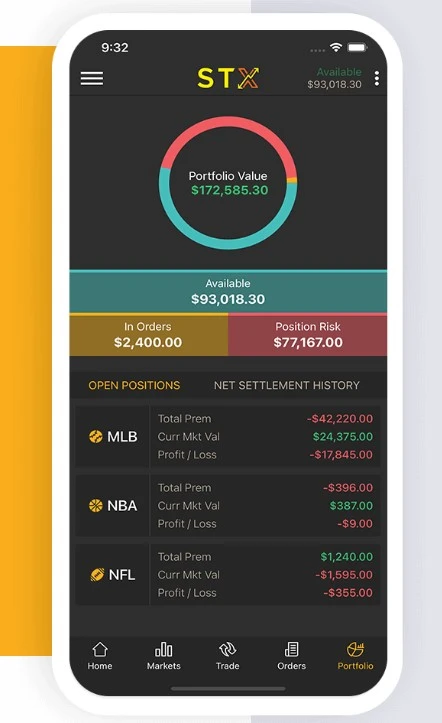 How to Choose The Best Betting Exchange Sites
Though the marketplace is relatively small compared to sportsbooks, there are a few things to look for when it comes to finding a Canadian betting exchange. The criteria are much the same as they would be for finding a regular sportsbook.
Reputation is critical, especially in the early days of exchange betting sites. The best of the best stand out and are a great place to start.
Betting Markets: A sports betting exchange in Canada also depends on the markets available. The more sports you can bet on, the more options you have when placing a bet.
Commission rates: The single biggest difference between exchanges and sportsbooks is the fees. Those commission fees are far lower through a Canadian betting exchange, passing the savings down to the bettors.
Popular Sports on Betting Exchange Platforms
If there is one criticism of sports betting exchanges, it is the relatively limited number of sports. A standard sportsbook will offer major sports from around the globe, like football, soccer, basketball, tennis, baseball, hockey, MMA, racing, and more.
Right now, the most popular betting exchange sports are football and soccer. This is largely due to the ability to bet on the spread, one of the most popular bet types there is. As more exchanges come to market and they gain a foothold, expect more sports to be added to the average exchange.
Expert Tips for Successful Betting on Exchange Sites
Perhaps the most important of playing at betting exchange sites is proper money management. As is the case with a normal sportsbook, you want to make sure that you get the most out of your money. With reckless betting, you will find yourself needing to make a deposit sooner rather than later.
By creating a betting system, you can get the most out of your money. Losses are going to happen, and a proper management strategy can help mitigate those losses. There are more than a few approaches, some of which have more success than others.
Another critical aspect is knowing what your risk factor is. Some players prefer to employ no more than two strategies and don't stray from their patterns. The riskier players are the ones who deviate and try different strategies all the time. Know where you stand because you can then set limits and guidelines that will help you throughout the process.
What to Avoid When Using Betting Exchanges
There are a few disadvantages to playing at a bet exchange. For starters, there are far fewer perks than you would find at the average sportsbook.
There is also the matter of liquidity. When you have greater liquidity, there is more money to be placed on bets with odds that you prefer. Having low-liquid markets creates less favourable odds and a lot less action.
Because of the limited availability of sports on betting exchanges, it may be best to stick to popular matchups. Avoid niche games and sports because you are more likely to be stuck waiting for an opponent than actually seeing action. That will hopefully change as sports betting exchanges continue to grow in North America and abroad.
The Future of Betting Exchanges in Ontario
Since online sports betting became officially licensed and regulated in Spring 2022, there has been exponential growth in the industry. Billions of dollars are wagered each month in Ontario, one of the densest provinces in Canada. It also acts as a pioneer for online sports betting with other provinces, following the example Ontario sets.
STX is just the tip of the iceberg. There is little doubt that they will become more popular as more options become available. As long as STX continues to be a trustworthy, reliable name in the realm, there will be a place for sports betting exchanges in Canada.
Before long, players will see the best of betting exchanges. Even if you still place bets at your preferred sportsbook, placing bets against other bettors will change your experience and how you view sports betting. Now is the time to make a change.
Conclusion on Sports Betting Exchanges
Playing at a betting exchange offers a chance to do something different. Sportsbooks are all fine and well but put players at an inherent disadvantage. When betting against the book, it is an uphill battle for players, creating limited value.
A betting exchange in Canada offers much better value and a different format where players can wager against one another. It is the kind of community-driven platform where the competition gets ramped up, and players can create their own wagers rather than being stuck with the sportsbook offerings.
Though we are in the early stages of the betting exchange world, there is a lot of promise. It won't be long before there are more bet exchanges popping up. Get in now, learn how to use them, and join in on this revolutionary change in sports betting.
Q&A Bet Exchanges
Ontario bettors should always look to use sites that are regulated and licensed in Ontario. By doing this, Ontario bettors can ensure that they always use legitimate sites that have to follow local rules.
Sports betting exchanges that are fully licensed for use in Ontario are safe to use. These legitimate sites are regulated by local gaming commissions to ensure fair play for each customer.
One of the preferred methods of winning on betting exchange sites is taking big favourites or underdogs. This is a long-term strategy and won't look great in the short term.
Any sports betting exchange winnings are 100% tax-free in Canada. This is due to consumer-friendly legislation, leaving players to play on betting exchanges and keep every dollar earned.
5+ Years of Experience in NBA and NHL Betting
Rowan is a sports betting journalist with an established presence in the sports media industry through his thought-invoking coverage and commentary surrounding major leagues like the NBA, NFL, and NCAA. While Rowan specializes in NBA, NFL, and NCAA college sports coverage, he consistently follows and reports on every major sport in North America.
Expert On:
NHL Betting
NBA Betting
Sports Betting Odds
More info on Rowan Fisher-Shotton

Facts checked by Jake Skudder