Daily Fantasy Ontario: Is It Legal in 2023?
In April 2022, sports betting and online casino gaming became officially regulated in Ontario. It was a major move for gambling in Canada, and the results have been outstanding. Unfortunately, it has had a negative impact on Ontario daily fantasy sports operations. In this article, we answer in detail the question of whether Ontario daily fantasy operators are legal?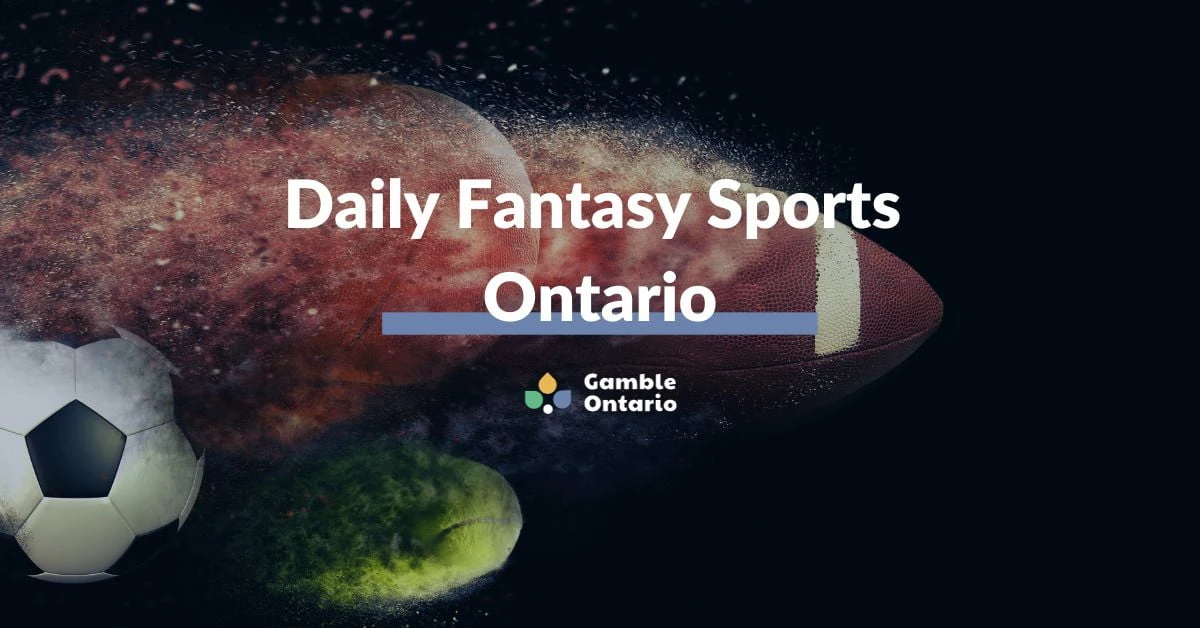 What Is DFS?
DFS, short for daily fantasy sports, offers a unique approach that differs from traditional sportsbook wagering. In DFS, you draft teams of players from sports like MLB, NHL, NBA, CFL, MLS, and more, with their real-life performances translating into points in fantasy contests. The team with the most points in a matchup wins.
Popular sports in DFS contests include basketball, hockey, golf, motor racing, NASCAR, PGA golf, soccer, baseball, UFC, college football, and the NFL, providing a wide range of entertainment options.
Daily fantasy sports speed up the traditional season-long fantasy sports format, creating an engaging user experience that has gained popularity across North America, including key gambling markets. DFS allows players to quickly build lineups for sporting events and move on once the contest ends.
Integrating AI into DFS adds an exciting layer. AI can analyze player performances, predict outcomes, and offer strategic insights, enhancing the decision-making process in building fantasy teams. This combination of DFS and AI sports betting technologies brings a more data-driven, informed approach to fantasy sports, making it easier for participants to make choices without the long-term commitments or challenges of dealing with injured or underperforming players throughout a season.
Is Daily Fantasy Legal in Ontario?
Until recently, daily fantasy sports in Ontario were offered through traditional names like DraftKings and FanDuel. The two began as giants in the DFS game, expanding throughout the United States and Canada. They had plenty of business as thousands of individuals in provinces across Canada played against friends and other people in contests. However, the standards for everything related to daily fantasy sports were quite low at the time.
With the launch of officially regulated sports betting and casino gaming, those platforms stopped supporting daily fantasy Ontario players. It's not that they are illegal, but they aren't openly offered to players who are physically located within Ontario. Lawmakers in Ontario have made the legislation in the province more strict in a lot of ways, including DFS prospects, taxation and other rules laid out by the government.
It is a bit of a grey area that leaves some DFS Ontario fans a bit confused. We'll go over some alternatives and spots where fans of DFS in Ontario can still get their fix in 2023.
Did Ontario Ban DFS?
Technically speaking, it isn't an official "ban," so to speak. With the implementation of the new regulatory framework supporting online sports betting in Ontario, companies like FanDuel and DraftKings nixed their Ontario daily fantasy sports offerings. It isn't the only one hurt, either. Online poker has taken a hit as well since the official launch.
The biggest factor has to do with the "pay-to-play" label that comes with Ontario daily fantasy. It is considered a form of gambling within Ontario, not a "game of skill," as it is labelled in the United States. Because of this, Ontario authorities require that those entities register for a licence, pay licensing fees, and provide a percentage of profits to the province.
These are the same regulations applied to sportsbooks and betting sites like BetMGM. These iGaming operations must have licences to accept Ontarians as bettors, including those from Toronto and other cities.
Moreover, Ontario regulations would require that the player pool only be in the province. That shrinks the pool of available players exponentially, which makes running Ontario Daily Fantasy no longer worthwhile for those major names.
So, while it isn't illegal to play daily fantasy sports in Ontario, it also is not as readily available as it once was. With tweaks in regulations, it is possible that Ontario daily fantasy sports could make a return on a larger scale, but there is nothing in motion as of now.
Best DFS Sites Ontario in November 2023
The good news is that, despite major names like DraftKings and FanDuel dropping their DFS Ontario platforms, there are still a few places for daily fantasy Ontario players to go. Though the options are not as robust as some would like, it is still nice to have a few available options for daily fantasy sports Ontario players to turn to.
Drafters
There are two names that are still going in the Ontario daily fantasy sports market. Drafters is one of them, offering real money live fantasy sports drafting to more than a million entries placed through the site so far. That's not even mentioning the more than $15 million in prizes won so far.
Drafters might not have the name recognition that FanDuel and DraftKings have, but it's a safe place to get in on great daily fantasy sports contests. The "pick 'em" option is one of the best around when it comes to daily fantasy, picking whether a player will go over or under their target number. That is just one of several unique features of Drafters' daily fantasy sports.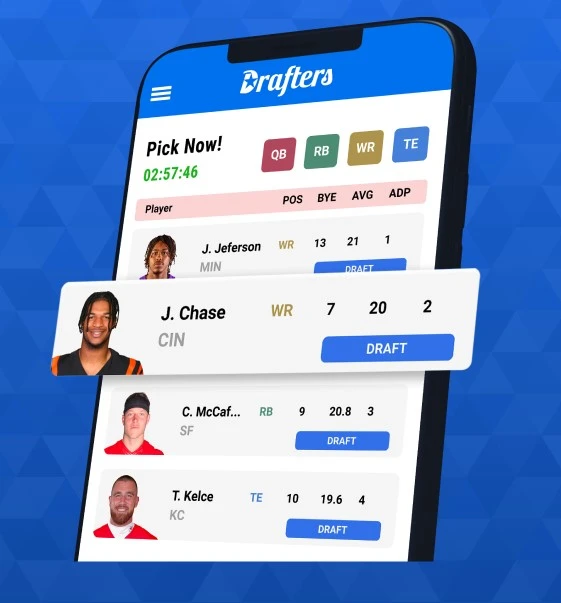 The pick 'em feature is a unique option different from most of the traditional daily fantasy sports options.

User-friendly website and app, making it easy on even those who are not exactly tech-savvy.

Reputable and easily available for use in Ontario, one of the few readily available non-offshore DFS sites out there.

Best Ball feature is a live draft that takes top players each week and applies it toward the player's score.
Player pools are typically not quite as big as some of the other daily fantasy sports apps that have been previously offered in Ontario.

Banking methods are a little limited, but nothing that will keep players from playing.
OwnersBox
Based in Ontario, OwnersBox is one of the only options left for daily fantasy Ontario players who want a local option. The platform is a bit small despite being offered to all of Canada and 36 of the United States. There is an app available for both iOS and Android, with more than 40,000 users currently using the platform.
OwnersBox is unique in that it continues to work with regulators in an effort to continue operating. They are still available to players for the time being. This collaboration between the operator and the Canadian association shows responsibility from both sides and is a good message from officials. That's not to say that it is officially regulated, and things can't change, but it at least offers the potential for Ontario daily fantasy sports to those who want to keep it local.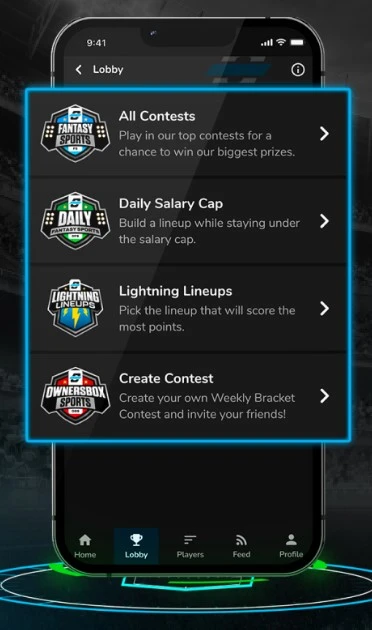 Local name in Ontario daily fantasy, giving some peace of mind in using an Ontario-based company.

Great DFS offerings for players of all backgrounds and experiences.

Still working with Ontario legislators to become officially regulated in the same vein as sports betting and online casinos.
Limited user base compared to bigger names in the industry, leading to some contests that don't fill up.

If Ontario decides to disallow OwnersBox from running DFS Ontario contests, users could be left to figure out another way.
How Do You Play DFS Games?
When you have found another site to play Daily Fantasy Ontario, it helps to know how to get involved. Most DFS sites work generally the same, though you may have to get used to the layout and feel of each individual DFS site. The content and information can change slightly depending on the decision of the operator.
When you log in, you will see featured contests for different sports on the main screen. Choose the event you want, and get ready to pick your lineup. You will have a budget with which to work in, spending a certain amount of fake money on each player. Build your lineup and submit it against the competition, hoping to place in a position that will net you cash and other prizes.
Legal Status of Daily Fantasy Sports Ontario: Full Timeline
The major changes for daily fantasy sports Ontario players have been a bit tough to deal with. For years since DFS became a regular thing, Ontario players could use major names like DraftKings and FanDuel, which have smooth interfaces and a proven track record.
The big shift came with the launch of the regulated sports betting and casino gaming platform for the province. Though sports betting is now legal through many physical and online platforms, it has had unintended consequences for the DFS market.
Restrictions would have limited the player pool to just Ontario, and fees would have cut into any potential profits. Because of those hangups, FanDuel and DraftKings, as a result, both made the move to withdraw DFS services in the province.
Daily fantasy in Ontario is not banned or illegal, but it is hard to find places that offer DFS to Ontario residents. There may come a time when those DFS giants come back into the fold, but it likely won't be any time soon.
Conclusion: The Future of Daily Fantasy Sports in Ontario
The future of daily fantasy in Ontario is in flux. The introduction of regulated sports betting and online casino gaming may have opened new doors for those who like betting in Canada, but it has made life difficult for those who enjoy DFS. While residents of New York, New Jersey, Arizona, Indiana and even Canadian provinces like British Columbia enjoy daily fantasy sports, Ontarians are left out.
Though there are still available options like OwnersBox and Drafters, the lack of Ontario-licensed DFS sites is less than ideal. There may come a time in the near future when a change is made to bring DFS back into the fold, but there is no realistic date to expect that to happen.
FAQs About Daily Fantasy Sports in Ontario
With the implementation of regulated sports betting and casinos in Ontario, DFS has since become unavailable in Ontario. That's not to say it is illegal, but it is no longer offered in Ontario due to licence and regulation requirements.
At the moment, you can play at Daily Fantasy Sports sites in Ontario, such as OwnersBox and Drafters.
As of now, there is no current timeline for a return of daily fantasy sports in Ontario. There has not been an official ban, but it has become less lucrative for major DFS providers like DraftKings and FanDuel.
Players can access Ontario daily fantasy sports through sites like OwnersBox. The problem is that DFS options are not as big as sports betting or online casino gaming.
As long as you are located in Canada – not even Ontario – you can play at OwnersBox, BetSafe, and 888sport. There may be others out there, but these are the most reputable and trustworthy DFS options still out there.
Like DraftKings and FanDuel, Yahoo daily fantasy sports is no longer available in Ontario.
Currently, DraftKings daily fantasy sports are no longer available to players in Ontario. The platform was pulled from Ontario due to limitations on the available player pool and fees.
8+ Years of Experience in Soccer Betting
Greg Lea is a soccer journalist specializing in Ontario's soccer betting scene. He has had work published by ESPN, Eurosport, Goal.com and more. Among his strengths as a sports journalist are live blogs, match reports, press conference papers, analytical sports articles and commentary. Since 2015, Greg has been a full-time freelancer and received Premier League accreditation the same year.
Expert On:
Soccer Betting
Sports Betting
Sports Betting Odds
More info on Greg Lea

Facts checked by Eamon Doggett