WCLC Launches CATAN Scratch-Off Game
The Western Canada Lottery Corporation (WCLC) recently introduced a new ticket product for lottery players. The scratch ticket, titled CATAN, was launched as a collaborative effort with Pollard Banknote Limited. It is also the debut of the CATAN brand in the lottery sector. CATAN is a game brand that is popular among adults under 35 and has been expanding in popularity at a rapid rate.
With more than 100 million players signing up since launch, CATAN is one of the most popular modern-day games you will find. The popular board game has even sold 40 million physical board games across the globe, while another 20 million play the game with some regularity. The online CATAN Universe has a sizable community as well, boasting more than 550,000 active users each month.
Working With Pollard Banknote
The new $3 scratch ticket from WCLC has popular symbols that are part of the CATAN world. Some of the most popular items include wool, wood, grain, ore, gold, and brick. Using a key number in the match-style game, players are required to scratch the hex tiles, matching their rolls in order to reveal the game symbols.
With each ticket, it is possible for players to win as much as C$50,000. There are also a pair of development card bonus features that provide more instant rewards, though they are not nearly as sizable as the main price.
In comments from Chelsey Rowledge, the manager of Instant Games at WCLC: "Crown corporation is quite optimistic about the new scratch product and will be compelling to players who already support the board game through the global fanbase." She also added that it is a great addition to the current WCLC library. Finally, she predicts that players will enjoy the entertaining ticket, which will ultimately support priority services and programs.
The Vice President of Sales & Marketing at Pollard Banknote, Brad Thompson, congratulated the Crown agency on the first-ever CATAN instant game. As one of the most popular board games on the planet, it is also the newest licensed brand for WCLC's lottery sector. Because of the huge following and brand recognition, the ticket is expected to garner a very favourable reaction from lottery players.
Pollard Banknote and WCLC have combined to create a fully integrated marketing campaign in order to boost both retail sales and player engagement. The lottery partner has also created a "Hot to Play" video in order to support CATAN's debut. The video explains the basic mechanics of the game and offers a play table screen ad for both POS and retail support.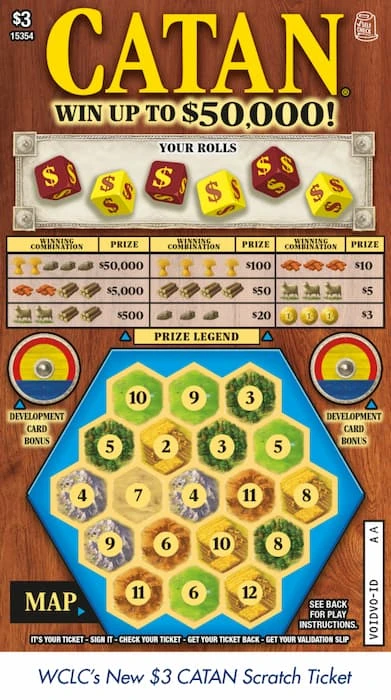 The Growth of VLTs in Western Canada
WCLC also noted earlier this year that it has improved its selection of video lottery terminals. This comes as part of a deal with International Game Technology, stating that the provider had recently launched 720 CrystalDual 27 VLTs in tandem with the Crown agency. On top of that, the supplier also debuted its very popular CX game set for VLT content in Saskatchewan.
In 2022, WCLC signed a collaboration deal with Inspired Entertainment. The two would work together on the launch of 700 Valor VLT placements across Saskatchewan. As part of the deal, the supplier incorporated those 700 VLTs into the Saskatchewan Liquor and Gaming Authority. These new VLTs feature improved game themes that have been specifically tailored to appeal to Saskatchewan audiences.
More About CATAN
CATAN Studio is behind the English publication of the CATAN analog board game. In addition to that, it also produces merchandise and fosters organized events and play in order to promote community growth.
Additionally, CATAN GmbH is the intellectual property owner of the CATAN brand. The CATAN board game is the primary product, though the recent expansion into lottery games could be a potentially huge growth opportunity.
The CATAN brand includes extensions, standalone games, expansions, digital adaptations, scenarios, merchandise, stories, and an array of other consumer products. Currently, CATAN is available in more than 40 languages around the globe. Since its publication in 1995, the board game has garnered more than 40 million sales.
More About Pollard Banknote
The lottery partner has more than 60 partnerships around the globe. The goal is to provide the best instant ticket products, in-lane ticket options, sales-driving merchandise solutions, and licensed games through its Schafer Retail Solutions portfolio.
Pollard has a full offering of digital options, with game apps, iLottery solutions, and strategic management and marketing services. With bingo paper, ticket vending machines, pull-tab tickets, and electronic games as well, Pollard Banknote has been a force in the lottery and gaming industry for decades.
Conclusion: CATAN Scratch-Off Boosts WCLC Sales & Engagement
In a groundbreaking collaboration, the Western Canada Lottery Corporation (WCLC) and Pollard Banknote Limited have introduced the CATAN scratch-off game, marking the popular board game brand's debut in the lottery sector. Targeting the under-35 demographic that has fervently embraced the CATAN universe, the new $3 ticket offers an innovative gaming experience along with the potential for significant cash rewards. With CATAN's staggering global community of 100 million players and 550,000 monthly active online users, this venture is set to capitalize on existing brand loyalty while contributing to WCLC's diverse lottery offerings. As the CATAN scratch-off game promises to be an enticing addition for both dedicated fans and new players, industry insiders anticipate a favourable reception that will likely bolster WCLC's retail sales and overall engagement.
More info on Anthony Odiase