How to Play Lottery in Ontario – Ontario Lottery Guide
Welcome to the gripping world of the Ontario lottery! In the province of Ontario, the lottery system is run by the Ontario Lottery and Gaming Corporation (OLG), the big shots that keep the gaming action going strong. From lotteries and casinos to slots and sports betting, they hold jurisdiction over various gambling activities in the province.
A lottery, in essence, involves acquiring a ticket bearing a specific set of numbers, with the hopeful anticipation that these numbers will be drawn during a lottery event. When a fortuitous alignment of numbers occurs, the player achieves the grand triumph – a winning lottery ticket.
Lotteries in Ontario have garnered immense popularity and have become a cherished pastime among the populace since the OLG's first inaugural lottery in 1975, more than 40 years ago. These games of chance offer enticing opportunities to seize life-altering jackpots and lucrative prizes.
On this page, we'll be exploring all of the intricacies of lottery play in Ontario, from the various lottery games you can play to select strategies and tips to elevate your chances of securing that coveted jackpot!

Different Lottery Games in Ontario
When it comes to the diverse world of lottery games in Ontario, there's something for everyone, from the dreamers eyeing the grandest jackpots to those looking for daily thrills. But first, let's kick things off with the big kahuna – Lotto Max!
Lotto Max is all about living large and playing for those colossal jackpots (between $10 and $70 million!). With draws held twice a week, you get a chance to win big every Tuesday and Friday. Get your ticket, pick seven numbers from 1 to 50, and cross your fingers for a shot at the enormous top prize.
Next in line, we've got Lotto 649 – a classic and beloved favourite among Ontarians. It's simple: choose six numbers from 1 to 49, and you might be on your way to riches. Drawn every Wednesday and Saturday, this one keeps the excitement flowing regularly.
Now, if you're aiming for a grand prize that pays out a whopping $1,000 a day for the rest of your life, the Daily Grand is the way to go! Select five main numbers from 1 to 49 and one "Grand Number" from 1 to 7. Drawn every Monday and Thursday, this game offers a chance at a life-changing win that keeps on giving.
OLG also loves to spice things up with some specialized games. Take Ontario 49, for example – a straightforward lottery where you pick six numbers from 1 to 49. And let's not forget the Instant Games, offering instant gratification with scratch tickets that can reward you on the spot.
How Old Do You Have to Be to Buy Lottery Tickets in Ontario?
If you've been wondering how old you must be to buy lottery tickets in Ontario, we've got the scoop for you! To participate in the thrilling world of OLG lottery games, you must be an Ontario resident who is at least 18 years of age.
The minimum age restriction of 18 is in place to ensure responsible gaming practices and to protect young individuals from the potential risks associated with gambling. By setting this age limit, the Ontario Lottery and Gaming Corporation (OLG) aims to promote a safe and secure gaming environment for all players.
Additionally, as per the regulations, you must be a resident of Ontario and physically located within the province at the time of play to partake in the lottery games offered by OLG. These requirements help maintain the integrity of the gaming system and prevent any unauthorized access or participation from outside the province.
Where to Buy Lottery Tickets in Ontario
If you're in Ontario, there are two fantastic avenues for purchasing lottery tickets: the traditional physical locations and the exciting online lottery platform. Let's explore the different options and address some common questions that might pop up along the way.
How to Buy Lottery Tickets Online in Ontario
Thinking of giving the online lottery a shot? For those curious to know how to buy lottery tickets online in Ontario, just head to OLG.ca, sign up for an account, and dive into the array of lottery games. Choose your favourite game, select your numbers, and add funds to your account. Once you've got that, you're all set to purchase your tickets and join the jackpot chase from the comfort of your home.
Playing online comes with additional perks as well! Not only can you purchase tickets online, but you can also customize your gaming experience to suit your preferences and budget. The cherry on top is the My PlaySmart suite of tools that OLG provides, which are designed to promote responsible gaming, helping you stay in control and avoid overspending.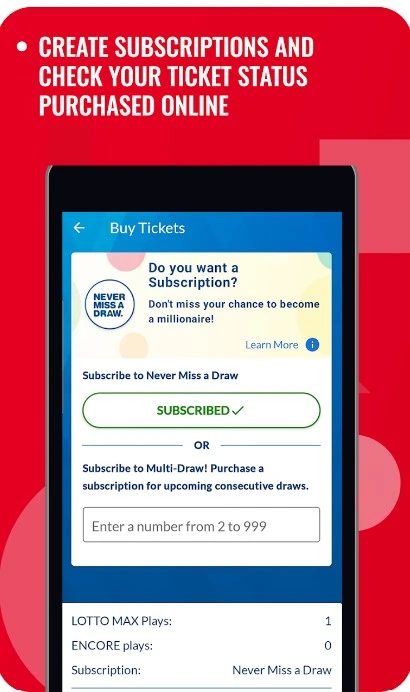 How Late Can You Buy Lottery Tickets in Ontario
Now, at this point, you may be wondering how late you can buy lottery tickets in Ontario. Well, it depends on whether you're going the traditional route or venturing into the digital world.
Physical retailers (convenience stores, grocery stores, etc.) and lottery kiosks have their own operating hours, so it's best to check with them individually. However, for most Ontario lottery games, the deadline is typically 10:30 PM (EST), just before the draw takes place.
If you're opting for the online lottery, however, you can buy tickets on OLG.ca at any time that suits your fancy. No more rushing to make it before closing time!
Checking Your Lottery Tickets: Physical and Online
To check lottery tickets purchased in-store, all you need to do is take your ticket to any authorized OLG retailer in Ontario. They will use a scanning machine to check the barcode on your ticket, and it will instantly display whether you have a winning ticket or not. It's a quick and easy process, and the retailer will be happy to assist you with any questions you may have.
But wait, let's say you bought your tickets online, and now you're eager to see how to check lottery tickets purchased online in Ontario. Well, simply log in to your OLG.ca account, head to the "My Tickets" section, and there you have it – the results of your draws are right at your fingertips. No more wondering or waiting!
'See Retailer' Message: What Does it Mean?
Now, you might've noticed some lottery tickets that say "See Retailer Ontario." Wondering why? Well, it's usually because the ticket requires further verification, like if it's a big win that needs to be claimed at an OLG Prize Center. Don't fret; it's all part of the process to ensure your prize is secure and valid.
When you see this message, you should take your ticket to any OLG-authorized retailer in Ontario. These retailers are equipped to help you with the verification process. They will scan the ticket and provide you with the necessary information about your prize, if any, or guide you on the next steps, like if it needs further validation at a Prize Center for larger winnings.

Ontario Lottery Results: The Wait and the Win
We know the thrill of waiting for the Ontario lottery results can be quite a rollercoaster ride. But don't worry, finding those eagerly awaited numbers is easy peasy!
Where to Find Ontario Lottery Results:
OLG Website – The quickest and most reliable way to check the Ontario lottery results is on the official OLG website, OLG.ca. Head to the "Lottery" section, select your desired game, and you'll find the latest winning numbers displayed there.
Authorized Retailers – If you prefer the traditional route, you can visit any authorized OLG retailer. Many retailers post the winning numbers on their bulletin boards or have self-service ticket checkers for your convenience.
Newspapers – Some local newspapers publish the Ontario lottery results, especially for major games like LOTTO MAX and LOTTO 6/49. Check the entertainment or news section of your favourite newspaper for the latest draws.
Mobile Apps – OLG also offers a mobile app for both Android and iOS users. You can use the app to check the Ontario lottery results on the go, anytime and anywhere.
Frequency of Draws for Different Games:
Each lottery game has its own draw schedule, offering multiple chances to win throughout the week. Here's an overview of some popular games and their draw frequency:
LOTTO MAX: Draws take place every Tuesday and Friday
LOTTO 6/49: Draws are held every Wednesday and Saturday
Daily Grand: Draws occur every Monday and Thursday
Ontario 49: Draws are held every Wednesday and Saturday
Keep in mind that other specialty games may have different draw schedules or be available for a limited time. To stay updated on the latest draw dates, make sure to check the OLG website regularly or use the mobile app for real-time notifications.
How to Claim Lottery Winnings in Ontario
As the excitement builds up, and you've got that winning ticket in hand, the next question that pops up is:
Where do I claim my lottery winnings in Ontario?
For smaller prizes up to $1,000, you can claim them at any authorized retailer.
For bigger wins, you'll need to visit a designated OLG Prize Center. Check OLG.ca for the nearest location and specific details on claiming your well-deserved fortune.
To claim winnings for online lottery tickets, you will receive a notification of your win through email or your OLG account. Smaller prizes up to $1,000 are automatically deposited into your OLG account, while larger wins exceeding $1,000 require a visit to an OLG Prize Center with valid identification for verification. Once verified, you can choose to receive your prize as a check or through an electronic fund transfer to your bank account.
Where Do I Claim My Lottery Winnings in Ontario
Congratulations on your winning ticket! Now, let's navigate the path to claiming your well-deserved lottery winnings in Ontario. Here's what you need to know:
Small Winnings (Up to $1,000) – For smaller winnings, you can claim your prize right at any authorized OLG retailer. Simply present your winning ticket to the retailer, and they will validate it using their scanning equipment. Once verified, you'll receive your prize in cash or, if you prefer, in-store credit for future play.
Large Winnings (Exceeding $1,000) – For larger winnings that exceed $1,000, a visit to an OLG Prize Center is required. These centers are located across Ontario, and they're the go-to places for claiming those amounts. Before heading there, make sure to call ahead or check the OLG website for the nearest Prize Center and its operating hours.
What to Bring:
When claiming your lottery winnings, you'll need to bring the following documents to the Prize Center:
Valid Photo ID: Bring a government-issued photo ID, such as a driver's licence, passport, or Ontario photo card. This helps verify your identity and ensures that the prize is awarded to the rightful winner.
Winning Ticket: Of course, don't forget to bring your winning ticket along. It serves as proof of your win, so keep it safe until you claim your prize.
OLG Account Information: If you played online and won a larger prize, bring the necessary OLG account information associated with the winning ticket.
Claim Form: Depending on the size of your prize, you may be required to fill out a claim form at the Prize Center.
How Much Tax on Lottery Winnings in Ontario
In Canada, including Ontario, lottery and casino winnings are typically considered "windfalls" and are not subject to tax. This means that regardless of whether you strike it big with lottery games like Lotto Max or 649 or win from charitable organization-sponsored lotteries and sweepstakes, you get to keep the full amount of your prize without any reductions in taxes.
With that being said, any income generated from your winnings, such as interest or dividends earned from non-registered investments or accounts, may be subject to tax. Additionally, according to the Canada Revenue Agency (CRA), if you have earned gambling income as part of your profession, it could be taxable as it would be considered business income.
Strategies to Win The Lottery in Ontario
While there's no surefire way to guarantee a jackpot win, understanding the odds can certainly help you make informed decisions when exploring how to win the lottery in Ontario. Here are some strategies to approach the lottery in Ontario with precision:
Know the Game: Different lottery games have varying odds of winning. Games with larger jackpots often come with more challenging odds. Familiarize yourself with the odds for each game before making your selection.
Consider the Prize Size: Keep in mind that games with smaller jackpots might have better odds of winning. While the payout might not be as massive, your chances of walking away with something in your pocket are higher.
Group Play: Consider joining or forming a lottery pool with friends, family, or co-workers. Pooling resources means more tickets and more chances of winning. Just remember to establish clear agreements and rules for sharing the prize in case of a win.
Play Regularly & Responsibly: Consistency can be key. Playing regularly with a set budget allows you to maximize your chances over time without going overboard.
Common Misconceptions:
Hot & Cold Numbers: Some players believe that certain numbers are "hot" (likely to be drawn) or "cold" (unlikely to be drawn). In reality, each draw is independent, and past results do not influence future draws.
Lucky Stores or Retailers: There's no evidence to suggest that certain stores or retailers have luckier tickets. Winning tickets are distributed randomly among authorized retailers.
Spending More Increases Chances: While buying more tickets does increase your chances of winning, it's essential to do so responsibly and within your budget. Lottery play should always be treated as a form of entertainment.
Timing Matters: The time you buy your ticket does not impact your odds of winning. The draw is a random event, and when you purchase your ticket, it makes no difference.
Which Ontario Lottery Has the Best Odds
Ontario gamblers love to play: Lotto 649, Lotto Max, Daily Grand, and Ontario 49. But which Ontario lottery has the best odds of winning? Let's dive into the numbers and analyze the odds for each game to help you make an informed decision.
Lotto 649 – Tickets cost $3, and players select six numbers from 1 to 49. The odds of hitting the jackpot are 1 in 13,983,816. Draws on Wednesdays and Saturdays.
Lotto Max – At $5 per ticket, choose seven numbers from 1 to 50. The odds of winning the jackpot are 1 in 33 million. Draws every Tuesday and Friday.
Ontario 49 – With a $1 ticket price, players pick six numbers from 1 to 49. The odds of winning the jackpot are 1 in 13,983,816. The jackpot starts at $1 million, and draws occur twice a week.
Daily Grand – Tickets cost $3, and players pick five numbers from 1 to 49 and a "Grand Number" from 1 to 7. The odds of a jackpot win are 1 in 13,348,188. Draws on Mondays and Thursdays.
Overall, Lotto 649 stands out as the lottery with the best odds in Canada. With its affordable ticket price and reasonable chances of winning, it's a popular and favourable choice for many players. However, every lottery game offers unique features and potential prizes, so consider your preferences and play responsibly.
Responsible Gambling and Lottery Play in Ontario
Responsible gambling is vital when it comes to lottery play in Ontario. While the thrill of winning is exciting, it's essential to understand the risks and play within your means. Set a budget and stick to it, avoiding chasing losses, and if you ever feel that gambling is becoming a problem, seek help from resources like:
ConnexOntario Helpline (1-866-531-2600)
OLG's PlaySmart
Responsible Gambling Council (RGC)
Remember, gambling should be a form of entertainment, not a source of financial strain. Play responsibly and know when to seek assistance if needed.
Conclusion on Ontario Lottery
The Ontario Lottery offers an exciting array of games, from Lotto Max and Lotto 649 to Daily Grand and Ontario 49, each with its own unique odds and prizes. While we all dream of hitting the jackpot, it's crucial to approach lottery play responsibly. Understanding the odds, setting a budget, and playing within our means ensures an enjoyable and safe gambling experience.
Q&As About Lottery in Ontario
In Ontario, you usually have one year from the draw date to claim your lottery prize. After this period, unclaimed winnings may be forfeited, so act promptly.
Yes, lottery winnings can be split or shared among multiple winners. For example, if multiple players match all the winning numbers, the jackpot is divided equally among them. Pooling resources with others can also increase your chances of winning.
If you lose your physical lottery ticket, you can reach out to the OLG directly to help verify your claim. However, it's advised to treat your ticket like cash, keep it safe, and sign the back immediately to identify it as yours.
Yes, non-residents can buy Ontario lottery tickets, but they must purchase them within the province's borders. Online lottery tickets are also available for non-residents through the OLG website.
People Who Read This Page Usually Check Casino Games Next
5+ Years of Experience Writing Casino Reviews
Anthony Odiase is a freelance content writer. He specializes in writing reviews and articles for iGaming and online gambling sites, providing gambling tips to novices and professional gamblers in Ontario, Canada and across several countries. With vast knowledge about the Canadian gaming sector and seeing the growth of online gaming products and services, he has published several high-quality reviews.
Expert On:
Casino Reviews
Online Slots
Casino Games
More info on Anthony Odiase

Facts checked by Dominic Field