Crazy Time Game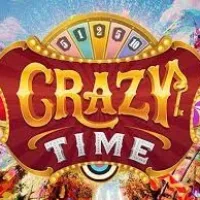 Crazy Time
★
★
★
★
★
4.5
Play Responsibly
This rating score is calculated by our gambling experts according to our rating guidelines to provide honest and unbiased reviews.
Made by Evolution Gaming
OUR RATINGS
Game Experience
Slot Features
Rating
RTP

Visit Site
This operator is licensed and regulated by the Alcohol and Gaming Commission of Ontario (AGCO) and operates under an agreement with iGaming Ontario (iGO). It is presented to you as it has passed Gambleontario.ca evaluation criteria according to our editorial principles. You must be +19 to participate. T&Cs apply; proceed to the operator site to read before taking any action. Play responsibly.
*Note that as a Live Casino Game, Crazy Time is not available in demo mode.
Crazy Time Live – Game Info
▼
Provider
Evolution Gaming
Maximum Win
20,000x stake
Where to Play Crazy Time at Ontario Casinos?
We have selected the top 3 casinos with the Crazy Time game. At these online casinos, you know you can play with safety and see your winnings paid out shortly. Enjoy Crazy Time Live!
CasinoDays: Vast live casino with Crazy Time and many other money wheel games;
Caxino: Good selection of reliable payment options with low minimum deposit limits;
FireVegas: Over 2,500 enthralling games, including Evolution live casino products.
How to Play Crazy Time Live?
Crazy Time by Evolution is an exciting wheel of fortune-style game. Although it blends elements of several other fairground and gambling games, the basic premise is simple.
Each segment of the wheel features either a multiplier value or a bonus round. The aim is to predict which segment will be chosen. If you guess correctly, the relevant multiplier applies to your winning bet. However, if a bonus is triggered, we must first play that game in order to determine the multiplier.
Main Game Round
After the betting time ends, the dealer begins the base game by spinning the wheel. There are 54 segments in total, broken down as follows:
1x (blue): 21 segments;
2x (yellow): 13;
5x (pink): 7;
10x (purple): 4;
Coin Flip: 4;
Pachinko: 2;
Cash Hunt: 2;
Crazy Time: 1.
Eventually, the flapper will come to rest on the winning segment. If any of the four multiplier values are chosen, your bet is enhanced accordingly. For example, a $2 on the 10x returns $20 if the flapper lands on any of the four purple 10x segments.
Top Slot
As the wheel spins, the Top Slot side feature kicks in. This is a very simple slot machine displayed above the main game wheel, featuring two reels and a single payline. The left reel contains all of the different segments of the wheel, while the right reel has multiplier values. Should any two symbols line up horizontally, an extra multiplier comes into play.
For instance, imagine the 5x segment is chosen, followed by a 3x multiplier value. In this case, any winning bets on the pink 5x section will be enhanced by 3x. So the usual 5x payout actually becomes 15x instead.
Bonus Games
Along with the 45 regular multiplier values found on the Crazy Time wheel, there are also 9 different bonus segments. If the flapper rests on any of these, the relevant bonus round is triggered. Any bets placed on the winning sector are paid according to the final multiplier at the end of the round.
Here's how each bonus feature works.
Pachinko
This round is so-called due to the Japanese gaming machines of the same name. These arcade machines feature a ball which randomly bounces off a matrix of pins, eventually coming to rest at the base. In Crazy Time, the Pachinko bonus does exactly that too.
Once activated, the presenter moves to a special area of the studio. Here lies a screen with a grid of pins and 16 different multiplier values at the bottom. A disc is fed into the machine, and after bouncing around for a short time, it randomly selects the winning multiplier.
Should it land in the zone marked "Double," all multipliers on the screen are increased by two, and the game is replayed until one is chosen. The maximum possible reward here is 10,000x.
Coin Flip
The most simple of the Crazy Time bonus games is Coin Flip. If chosen, the presenter heads over to the "Flip-o-Matic" machine off to one side of the studio. At this point, the device's screen chooses two multipliers at random; one for red and the other for blue.
Once these numbers are known, the dealer presses the button, and the machine tosses a large coin. One side is red, and, of course, the other is blue. Whichever side is chosen, all winning bets receive the previously selected multiplier. For example, let's say the revealed multipliers were 5x for blue and 25x for red. Should red win the flip, a successful $1 bet on red would pay $25.
This coin flip bonus round proved so popular with players that Evolution created a new live casino game based on the premise: Crazy Coin Flip.
Cash Hunt
The Cash Hunt bonus is based on a shooting gallery, as you might see at the fairground. It features 108 random multipliers of up to 500x. But once the dealer throws the lever, these numbers are covered up by symbols and randomly shuffled.
Every eligible player may now choose a symbol by firing the cannon onto the screen. If you don't choose in Time, the game will select one for you at random. Once Time is up, the symbols are uncovered, and whatever you choose that's your prize!
The interesting aspect of this particular bonus is that every player will have a different result due to their own individual choice.
Crazy Time
The main bonus game involves a special wheel with three differently-coloured flappers hidden behind a red door. Once unlocked, qualifying players must first choose either the green, blue or yellow flapper. After the selections are made, the dealer spins the wheel, just like in the regular game.
However, the Crazy Time bonus wheel contains an array of much bigger multiplier values, ranging from 10x up to 100x. What's more, there is a Double and a Triple segment too. Should your flapper end up pointing to either of those, each value is increased accordingly, and a re-spin occurs to determine your enhanced fate.
Crazy Time Quick Facts
The Crazy Time wheel contains 54 different segments
In addition to the main game, there are four bonus rounds, each with their own unique game mechanics and prizes.
This live casino game shares its name with the title of the main bonus round, Crazy Time
Multipliers on the main bonus game are capped at 20,000x
The theoretical maximum payout is 100,000x your bet
Evolution, the game's creator, is the industry's leading live casino supplier
The game features a team of professional presenters based in a live studio in Latvia.
Crazy Time Return to Player
All casino games have an in-built house edge. In the case of slots and live casino games, we talk about the Return To Player rate or RTP. This theoretical figure tells us what the game will pay out over an infinite period of time.
Crazy Time is not an easy game to calculate. But we know that the RTP on the 1x bet is 96.05%, which is the highest value. This means that for every $100 wagered, the game pays back $96.05 to players. At least, it should, in theory, since every individual spin is completely random.
Bets on the Crazy Time bonus segment offer the lowest RTP at 94.41%, while the average of all bets is 95.41%.
Crazy Time Maximum Wins
A common question asked about Crazy Time concerns maximum payouts. But the truth is, every spin is different, and multipliers can be randomly added, so it's difficult to say. In the Crazy Time bonus round, for example, you could keep spinning Double or Triple, continually increasing the maximum multiplier as a result. However, the game eventually caps this at 20,000x.
Then you have the Top Slot feature, which further enhances any existing payout. The maximum reward there is 50x. Combined with the top prize of 20,000x, that would make for a theoretical payout of 1,000,000x. However, regardless of the multiplier, Evolution casinos usually cap the top payout at $500,000. Be sure to clarify this with your chosen site, though, since every casino is different.
Biggest Historical Payouts
The biggest payout we know of to date came in December 2022. First of all, the Top Slot added 50x to the Cash Hunt bonus. The presenter chose the Cash Hunt game, and the board showed a 500x multiplier. Of course, with the 50x in play, this was enhanced to a massive 25,000x.
Incredibly, 18 lucky players managed to correctly locate the top prize on the grid. Imagine the excitement! Prior to this, the biggest payout had been 12,500x. This was awarded on three separate occasions, all courtesy of the Cash Hunt bonus.
Check more high payout slots online.
Play Crazy Time on Mobile
Like any good live casino game show from Evolution, Crazy Time is compatible with all modern mobile devices. You can either log into your favourite casino using their native app for Android and iOS devices. Or alternatively, since most top casinos nowadays are built mobile-first, simply use any up-to-date browser to log in and access your account.
Builds upon the Dream Catcher concept to create a simple but exhilarating game

Massive potential payouts thanks to random multipliers

Aesthetically pleasing, with a vibrant set and upbeat background music

Fun party-like feel courtesy of the engaging hosts and live chat feature
Not available to play for free in demo mode

A totally random nature means no winning strategy exists
Crazy Time Game Show And Its Similarities to Roulette
The main Crazy Time game involves spinning a wheel divided into equally-sized segments. Fundamentally, this is no different from a roulette wheel.
Although Crazy Time features 54 different segments, compared to the 37 on a European roulette wheel, the premise is the same. The wheel is essentially a Random Number Generator (RNG) used to determine which bets win and lose. But the key difference is the addition of bonus games, which add an extra layer of entertainment.
Slot games are built upon the same premise; only the outcome is decided behind the scenes. As soon as you spin, the RNG software predetermines the result before the reels are animated accordingly.
How Does Crazy Time Compare to Other Casino Games?
Crazy Time is one of several money wheel games available to play at live casinos. Here's a rundown of the alternatives.
| | | | | |
| --- | --- | --- | --- | --- |
| Game | Software | Year | Max. Multiplier | Game Facts |
| Crazy Time | Evolution | 2020 | 20,000x | Builds upon the original Dream Catcher format. |
| Dream Catcher | Evolution | 2017 | 13,720x | The first live casino money wheel game with random multipliers which inspired the rest. |
| Funky Time | Evolution | 2023 | 10,000x | Same concept as Crazy Time, but with a musical theme. |
| Mega Wheel | Pragmatic Play | 2020 | 500x | Pragmatic Play's first attempt at a Dream Catcher style game. |
| Money Drop Live | Playtech | 2021 | 5,000x | Based on the popular TV quiz show. |
| Monopoly Live | Evolution | 2019 | 10,000x | Combines elements of the family board game with a wheel of fortune. |
| Spin A Win | Playtech | 2018 | 500x | Horizontal wheel, like youu2019d see in roulette. |
| Sweet Bonanza CandyLand | Pragmatic Play | 2021 | 20,000x | Perhaps the most colourful and engaging of all live casino money wheel games. |
| The Greatest Cards Show | Playtech | 2022 | 5,000x | Despite the name, no decks of cards are involved! |
FAQs About Crazy Time Live Casino Game
The maximum theoretical multiplier is 1,000,000x. But most casinos set the upper payout limit at $500,000 anyway. This may vary between sites and by currency, so always double check before playing.
Looking for a Crazy Time casino? We've recommended three right here on this page! Check out FireVegas, CasinoDays or Caxino to enjoy a whole host of Evolution live casino games.
The maximum possible multiplier is 20,000x and it is awarded in the Crazy Time bonus round. With the biggest Top Slot bonus of 50x on top, that would lead to a theoretical maximum of 1,000,000x! The biggest payout seen to date is 25,000x from the Cash Hunt round.
As the game is totally random, there is no foolproof system to beat Crazy Time. However, since 1x is the most likely number to appear, it's not a bad strategy to just bet on this. You won't win big this way, but you'll find consistent wins. And if the Top Slot adds an additional multiplier, it can be quite lucrative!
Check These High Payout Slots
Casino Industry Expert - 15+ Years of Experience
Dominic is an experienced gambling industry professional of well over a decade across a variety of operational and product roles. He has launched retail sportsbooks and online wagering sites for gaming giants across Africa and Southeast Asia. Much of his content focuses on the North American iGaming scene, specifically the newly licensed Ontarian market, including casino & sportsbook reviews and local gambling laws.
Expert On:
Casino Reviews
Online Slots
Casino Games
More info on Dominic Field