Cleopatra Slot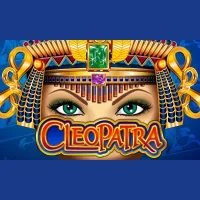 Cleopatra
★
★
★
★
★
4
Play Responsibly
This rating score is calculated by our gambling experts according to our rating guidelines to provide honest and unbiased reviews.
Made by IGT (Wagerworks)
OUR RATINGS
Game Experience
Slot Features
Rating
RTP
Visit Site
This operator is licensed and regulated by the Alcohol and Gaming Commission of Ontario (AGCO) and operates under an agreement with iGaming Ontario (iGO). It is presented to you as it has passed Gambleontario.ca evaluation criteria according to our editorial principles. You must be +19 to participate. T&Cs apply; proceed to the operator site to read before taking any action. Play responsibly.
Provider
IGT (Wagerworks)
What to Expect From This Cleopatra Slot Review
In our Cleopatra slot review, we'll take a detailed look at how to play this all-time favourite. We'll explain the various features, bonus symbols and jackpots, giving you all the knowledge you need to win. What's more, we'll discuss the game's impact on the wider slots world.
A true classic of the genre, Cleopatra was first released by developers IGT in 2012. This title remains extremely popular today at both online and land-based casinos, having benefited from a redesign in 2017.
Its Egyptian theme, based on one of the most legendary historical figures, has inspired dozens of copycat slots. While the simple gameplay mechanics, minimalist design, and retro feel keep players consistently coming back for more.
Quick Facts About Cleopatra Slot
Cleopatra Slot is a video slot game created by IGT, consisting of 5 reels and 20 paylines.
It is widely recognized and highly popular, thanks to its Egyptian theme and substantial jackpots.
The game showcases symbols like Cleopatra, the Sphinx and various ancient Egyptian artifacts.
The maximum bet per spin is 1,000 coins.
The wild symbol can replace all other symbols except the scatter symbol.
If three or more scatter symbols appear on the reels, they trigger 15 bonus spins.
During the bonus spins round, all winnings are multiplied by 3.
Additionally, the game offers a progressive jackpot, which is activated when 5 Cleopatra symbols land on the reels.
How to Play Cleopatra Slot
One of the most appealing features of the Cleopatra online slot is its simplicity. As you're about to discover, there are very few complex gameplay elements or features, with the developers opting for an intuitive and easy-to-play setup.
As a penny slot, you can spin the Cleopatra reels from as little as $0.01 per line. On the other hand, the upper limit is $10 with 20 paylines on offer, which makes for a maximum total spin of $200. Use the arrow buttons in the bottom-left corner to set your stake, then press the yellow icon in the centre to start playing.
Theme, Symbols, and Payouts
Cleopatra uses a simple 5-reel by 3-row grid with just 20 paylines. Due to the game's theme, you can expect plenty of references to ancient Egypt. For instance, you'll find several hieroglyphs on the reels alongside Cleo, as well as the Great Sphinx of Giza.
The music and sound effects are also exactly what you'd expect for an Egyptian-themed slot, and they certainly enhance the enjoyment. Especially the quips made by the titular character when appearing on the reels. For example, she exclaims "twice as nice" whenever two of her symbols appear.
Although the old-school look and feel may not seem cutting-edge today, the design of this slot has been copied relentlessly. Not just the range of sequels produced by IGT either, as Cleopatra has inspired dozens of other online slot games. Its impact on the slots community cannot be underestimated. We'll talk more about this later on in our Cleopatra slot review.
Symbols
Like all online slot machines, the aim is to match symbols on the active paylines. The game features two special symbols – a scatter and a wild – which we'll discuss in more detail shortly. Fittingly for the theme, the former symbol features a depiction of the famous Great Sphinx of Giza. And the latter? Well, who else but Cleo herself?
The higher-paying symbols feature various ancient Egyptian iconography, including hieroglyphics like the Eye of Horus and a scarab beetle. As with many video slots, the lower-paying symbols are based on playing cards, from Ace through to 9 in this case. These symbols are beautifully designed, predominantly gold in colour, featuring gems and other decorations in keeping with the theme.
Payouts
For the majority of symbols, you'll need to match at least three on a payline in order to earn a prize. However, finding just two 9 symbols pays 2x your line bet. Similarly, the game's two highest-paying symbols also double your wager if you can match two on a line. While just two Cleopatra wilds are worth 10x.
As you might expect, the biggest possible payout comes when hitting five Cleopatra wilds on a line. This pays an impressive 10,000x in the original game, as well as triggering the progressive jackpot in some of the sequels to this IGT classic. You can see the full pay table by clicking the button found in the top-right corner, just above the reels.
Special Features of Cleopatra Slot
We've already alluded to the fact that the Cleopatra slot machine game is relatively simple. Far from being a negative, this fact makes the game appealing to new players, as well as fans of retro slots.
Like all modern online slot games, it's possible to set up a number of automatic spins, saving you from repeatedly clicking or tapping the screen. This autoplay feature allows you to choose from 10, 20, 30, 40 and 50 spins and is accessible via the blue button in the bottom right.
Special Symbols
The game's titular character serves as the wild. She substitutes for all other icons except for the Sphinx to help you make winning a combination. But not only that, if you do earn a reward using a wild, the usual payout is actually doubled.
Scatter symbols unlock bonus features in casino slots, and this is also the case with Cleopatra. Drop 3, 4 or 5 Sphinx icons anywhere on the reels to trigger the main bonus game, in addition to receiving the corresponding prize.
3 Sphinxes offer 5x the line bet, with 20x for 4 and 100x for 5.
Bonus Rounds
If you're lucky enough to enter the Cleopatra bonus round, you'll play a fairly standard game. 15 bonus spins are your reward, regardless of the number of Sphinx symbols collected. During this bonus game, a 3x multiplier applies to all rewards, with the exception of the jackpot.
There is no gambling feature or retriggering. Simply sit back and enjoy the excitement of your 15 bonus plays!
Jackpots
The original Cleopatra slot game pays a fixed prize of 10,000x your wager if you hit 5 wild symbols. However, a subsequent release – Cleopatra MegaJackpots – also pays a progressive jackpot for 5 wilds. This can potentially reach $1 million!
RTP & Volatility
The way that slot games issue prizes is determined by two factors: the Return To Player (RTP) rate and the volatility, or variance. The latter deals with how often the machine pays a return, while the former dictates the theoretical percentage payout.
An accepted industry benchmark for RTP is 96.00%, so anything over that could be deemed generous. In the case of Cleopatra by IGT, the 95.70% RTP is slightly below average but still perfectly reasonable.
There is no official information from the developer regarding the game's level of volatility. However, the slots community seems to think it's slightly on the low side. A good way to get a feel for how often a slot pays out is to try it first in demo mode. You can enjoy the Cleopatra slot free at pretty much any top casino site in Ontario, Canada.
Cleopatra Slot Machine – Play on Your Mobile
The original Cleopatra slot was released at a time when smartphones and tablets were not commonly used to play at online casinos. However, thanks to the 2017 revamp, the classic slot is now accessible to all modern Windows, Android and iOS mobile, desktop and tablet devices.
If your preferred casino offers an app or a responsive mobile browser, the choice is yours. Either way, you'll experience the same crisp graphics, engaging game perks and other features. That also includes the demo version, which offers Cleopatra free slot play.
Strategies and Tips for Cleopatra Slot
Cleopatra, like any other slot machine, is powered by a Random Number Generator (RNG), which makes it impossible to predict. Unlike some casino card games, such as blackjack or video poker, there is no foolproof strategy to increase your chances of winning cash.
As such, the best tip of all is to remember that slots are a form of entertainment. Come with a fixed amount of money from your bankroll, have fun, and if you secure a healthy win, walk away! But if it's not your lucky day, don't chase your losses.
Another useful piece of advice is to take advantage of demonstration games. Playing for free ensures that you fully understand the rules of the game in a safe environment. You can graduate to real money gaming later once you're comfortable. Most online casinos allow you to toggle the Cleopatra slot free play mode on or off as you wish.
Comparisons and Alternatives – How Does Cleopatra Slot Compare to Similar Slots?
The popular slot has inspired a lot of releases by other developers, as well as a series of follow-up titles from IGT. As such, Cleopatra feels a little basic compared to similar games. After all, most of them are using this game as a starting point and building upon it.
Most similar games offer a bigger RTP, such as The Hidden Treasures of Cleopatra by Leander at 96.86%. And follow-up titles by IGT usually offer greater maximum payouts. Cleopatra II, for instance, has a higher level of volatility and a 50,000x maximum payout.
Fans of progressive jackpots should try Cleopatra MegaJackpots, which offers a shot at up to a million dollars. While Cleopatra Plus, Cleopatra Gold, Cleopatra Megaways and several others can all be found at popular online casinos.
User Experience and Reviews
Although Cleopatra never won any industry awards, it's widely regarded as a classic within the slots community. Easy to play on any device, with no software download required and no complex gameplay mechanics, it harks back to a simpler time.
A true fan favourite, most reviews give the original release a slightly above-average score, with newer versions securing even higher ratings. While some people have described the game as "charming," "enchanting," and even "relaxing"!
We Played The Cleopatra Slot – Here's Our Expert Opinion
First released in 2012, it's quite obvious that Cleopatra is no longer a groundbreaking slot. And yet it remains extremely popular at Las Vegas venues and major online casinos alike. There's just something about the retro look and feel, as well as the lack of complicated features, that keeps users returning.
Cleopatra is an ideal title for a new player, as it contains all the basic elements you'd expect. Multiple paylines, scatters, wilds and a bonus spins feature are all present. Coupled with the sounds and music, there's just about enough of a thrill to keep you engaged and having fun.
Has the information contained in our Cleopatra slot review whetted your appetite to play? Then register an account and deposit at any of the recommended casinos on this page. These legal gambling sites offer secure payment methods and many other features to ensure an optimal gaming experience.
FAQs About Cleopatra Slot
The Return To Player rate of Cleopatra by IGT is 95.70%.
This online slot machine is really easy to play. We've explained the full mechanics elsewhere in this Cleopatra slot review. But the basic idea is to match symbols on any of the 20 paylines. The Sphinx unlocks bonus spins, while five Cleopatra icons trigger the jackpot.
Every spin of the Cleopatra slot machine reels is random. Like any slot, it is a game of pure chance and requires Lady Luck to assist you. However, the 95.70% RTP and relatively low volatility suggest you'll likely hit lots of smaller wins quite frequently.
The maximum line bet when playing Cleopatra by IGT is $10. With up to 20 playable lines, that means a maximum total stake of $200. The minimum line bet is just $0.01, but it's even possible to play the Cleopatra slot free in demonstration mode.
Popular Slots at Ontario Casinos 2023
Casino Industry Expert - 15+ Years of Experience
Dominic is an experienced gambling industry professional of well over a decade across a variety of operational and product roles. He has launched retail sportsbooks and online wagering sites for gaming giants across Africa and Southeast Asia. Much of his content focuses on the North American iGaming scene, specifically the newly licensed Ontarian market, including casino & sportsbook reviews and local gambling laws.
Expert On:
Casino Reviews
Online Slots
Casino Games
More info on Dominic Field